The other day I finally finished my most recent project: Simplicity 1325.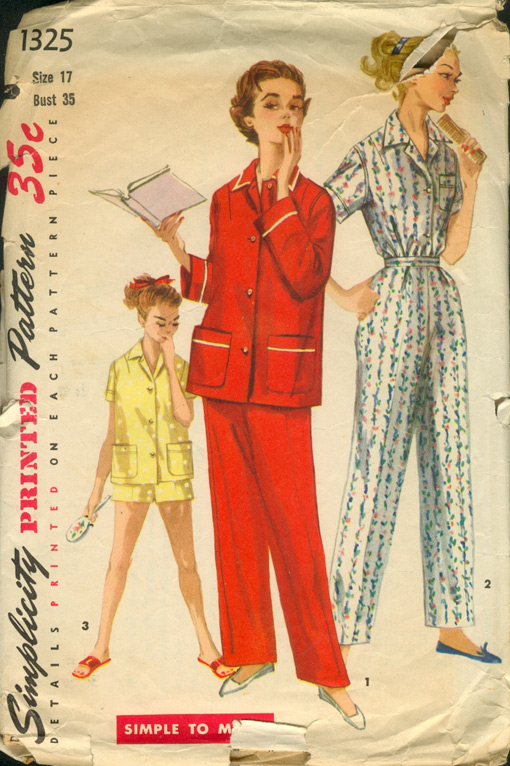 I was really excited to get this pattern when I did - it was on sale on eBay for only $1! I made the view with long pants and I was hoping for long sleeves, but I laid the pieces out wrong and ended up with only enough fabric for short ones. I'm alright with that, though, and I think they still look great. It's probably more comfortable this way, anyhow, with the lightness of the broadcloth I made them in.
The pants come up to the waist and have a button closure on the left - a very vintage detail. The waistband is slim itself and the closure end has a point to it, which I find to be a really nice touch.
Though the short sleeved top didn't have the bias tape detail on the collar or sleeves, I really like the look of it so I added it anyway. The collar is a bit of a mess - I haven't made one like this before, where you cover the edge where the collar joins the body with the top part of the collar. It didn't turn out too well
As you can see in this photo, the pockets and bias detail are actually straight when one's hands aren't in them. The pants came out at a really complementary length and the pleating is really nice. I used white thread throughout the project (though I strangely don't have much and kept almost running out) so there's that slight repeat to the contrast of the white of the bias tape against the green. I also altered the position of the buttons because the collar didn't come out quite right and I wanted to make sure I could unbutton the top button or two (well, where they would've been) to breathe and it wouldn't look lewd.
Once I figure out how better to sew these kind of collars, I'd be happy to make this again. I just love the retro styling and the bias detail. It's so kitschy and you just can't find it nowadays! I'd give it a 8.5/10.